18947 John J Williams Hwy, Suite 301, Rehoboth Beach, DE 19971
Jeffrey M. Cooper, DMD
Dr. Cooper is a graduate of the University of Pennsylvania Dental School. Dr. Cooper has practiced dentistry for over 30 years in Maryland and Delaware.
As a General Dentist, Dr. Cooper excels in delivering comprehensive care to his patients. His passion lies in creating an opportunity for others to feel good about themselves. Through the use of a comprehensive examination, you can determine what path you would like to take for optimal dental health and a beautiful smile. In this process, all aspects of the patient are considered for determining the best treatment.
Dr. Cooper believes in ongoing education. He routinely attends and leads educational workshops and seminars. He also collaborates with dental and medical colleagues nationally to bring the latest dental technology to this patients.
His professional memberships and affiliations include:

American Equilibration Society
Academy of General Dentistry
American Dental Association
Seattle Institute/Spear Faculty Club

Registered Dental Hygienist
Joanna will make sure you understand the condition of your mouth and necessary treatments for that condition and will also provide you with helpful home care tips.
Registered Dental Hygienist
Beth grew up in Boothwyn, PA. Beth is a graduate from Harcum College's Dental Hygiene Program. Beth joined EDC in April of 2015. Beth enjoys spending time with her Husband and 2 children.
Dental Assistant/Treatment Coordinator
Carissa was born in Lewes, DE and is a graduated of Cape Henlopen High School. Carissa lives in Lewes with her husband and 3 pets. Carissa has been a member of the Enhanced Dental Care family since 2010. It is my goal to deliver quality oral healthcare with compassion.
Dental Assistant/Treatment Coordinator
Ashley will assist you and Dr. Cooper with the goal of achieving optimal dental health for your teeth and gums. She will help you understand your role in keeping your smile bright and healthy.
Dental Assistant
Kyla relocated to the area from Maryland 15 years ago. She currently resides in Ocean View. Kyla loves the outdoors and enjoys camping, hunting, as well as surf fishing.
Patient Coordinator
Ruth will answer any questions or concerns regarding your registration and insurance paperwork, or anything about your appointment . Please do not hesitate to ask for assistance. As Ruth always says "Don't let the world change your smile, let your smile change the world." We're here to help!
Patient Coordinator
Angie will answer any questions or concerns regarding your registration and insurance paperwork, or anything about your appointment today. Please do not hesitate to ask for assistance.
Practice Administrator
Jodi assists in the managing of office functions, as well as assisting with patient questions and concerns regarding your registration, insurance paperwork, and anything about your appointment today.
Payment of fees is due at the time of service. Patients with insurance will pay their estimated co-payments before leaving the office. We will provide an estimated treatment plan for each patient to help make the patient aware of out-of-pocket expenses.
cash, debit, check, visa, mastercard
For non-participating insurance companies, payment at time of service and we bill electronically your insurance company at the end of each day for patient direct reimbursement.
We ask for 48-hour notice if you cannot make your scheduled appointment time.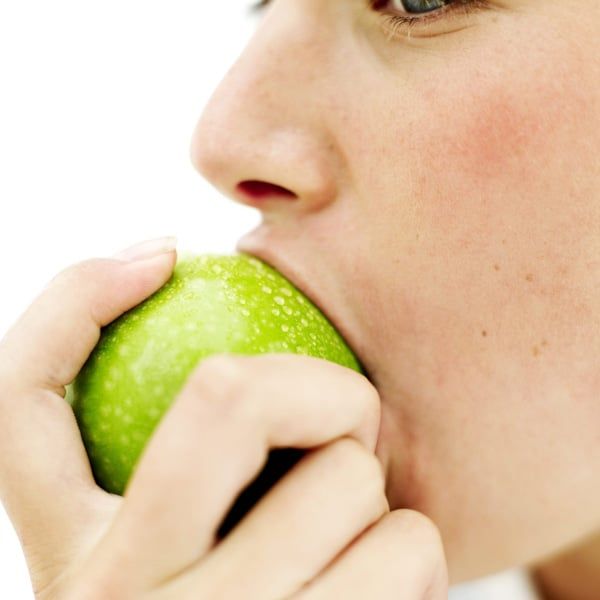 Whenever possible we use air abrasion rather than a drill. Air abrasion takes less tooth structure than a drill. Air Abrasion also eliminates vibration, noise, and the odor associated with a drill procedure.

Your tooth can then be filled with a strong chemically bonded material that can be matched to the color of your tooth making it appear nearly invisible. Tooth colored fillings are beautiful in appearance and can be completed in a single visit.
Dental Crowns in ONE VISIT with CEREC
We have a computerized restoration system that can fabricate restorations such as crowns, inlays, onlays, veneers and more in our office.
- No messy impressions
- No temporaries
- No second appointment
- No increase in cost
- Everything can be finished in a single appointment!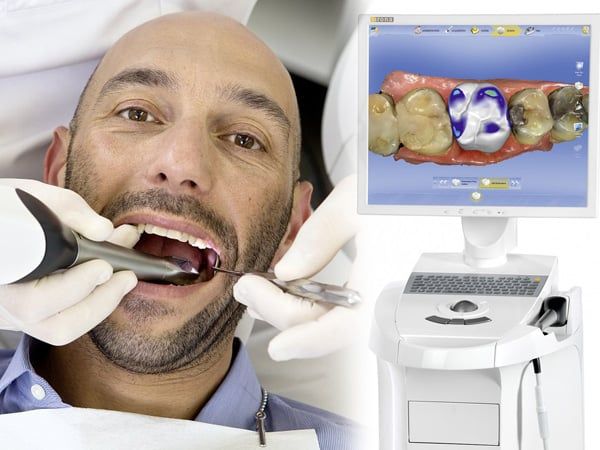 CEREC Omnicam is optimized for powder-free scanning of natural tooth structures and gingiva. Simply place the camera over the relevant area and the scan starts automatically. The elimination of a powder coating means that the scanning process is faster and easier. Full-arch and half-arch scans can now be performed more conveniently and quickly than ever before.

It is impressive to see the 3D model displayed in full color on the monitor. The various surfaces are shown in their natural shades. This direct and realistic feedback helps to distinguish between amalgam, gold or composite fillings and other subtle problems in the mouth.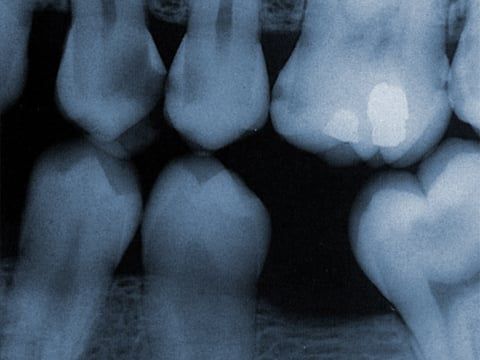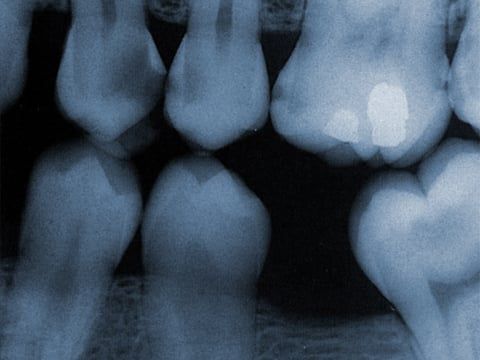 Our office uses the latest in digital x-ray technology. Digital x-rays offer a detailed image of your entire mouth and also offer up to 80% less radiation than traditional film x-rays.
X-rays play an invaluable role in the diagnosis of dental problems, as well as provide a clear picture for a dentist to accurately diagnose and provide the necessary treatment.
We place a small sensor in your mouth. The sensor is connected to a computer by a thin wire. Next, an x-ray beam is sent through your teeth and into the sensor, which records the image of your teeth and sends it to the computer. The sensor can then be repositioned to image other sections of your teeth.
The digital dental x-ray system is more sensitive than dental x-ray film systems, so your exposure to x-rays is cut by as much as 90 percent. The large and color-enhanced images let you see what your dentist sees, so it's easier for you to understand how your dentist will treat your teeth. Your dental checkups take less time, and it's fun to watch this system work! Most patients are amazed.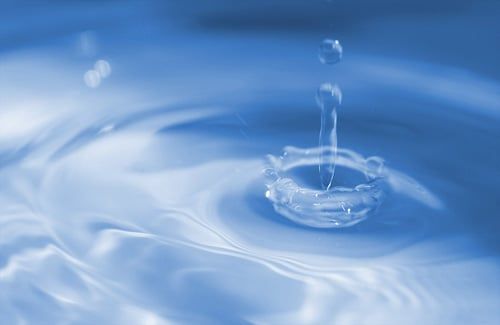 We use distilled water rather than tap water to help safeguard against germs and contamination.
Our office uses an intra-oral exam in order to allow the patient to see the what the doctor sees at the same time. This allows the patient to understand the issues the doctor is seeing and helps the doctor in discussing treatment plans.
Our office utilizes a computer system to organize your appointment information, health and dental records, etc. instead of paper forms.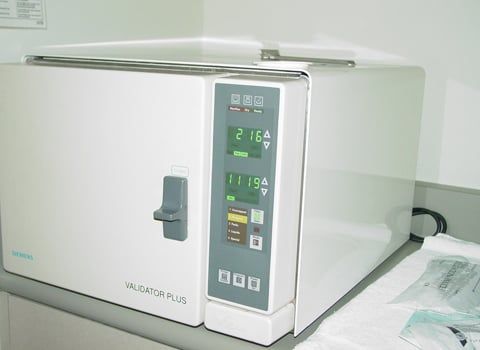 We use a powerful autoclave to sterilize equipment and dental instruments. This helps to safeguard against germs and contamination.